Our Fit For Fall series is almost finished with just 2 weeks left! We hope you have been following along and taking notes so that you can incorporate some of these easy life style changes to help keep you on track this holiday season.  A few tips just like we've stated in the past set realistic goals. Don't commit yourself to 5 days a week if you know your schedule will not allow it. Next plan your work out  physically write it in your calendar in between grocery shopping and picking up the kids or while you're waiting on piano lessons to end. If you're like me with two little kids running around it's hard to just sporadically get a work out in so I must plan what day and time work for me. Remember everything counts even if it's just a quick 20 minutes at home or a full hour at the gym!
Here are a few of our favorite workouts to do at home quick and easy!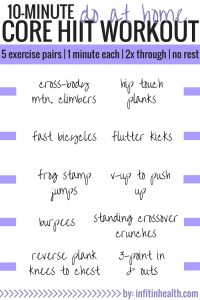 These are great to mix and match if you only have 10-20 minutes. Do one in the morning before getting in the shower and another right before bed.  As long as you are active and making an effort, small changes can make a big difference.
These don't require any weights or extra equipment you can just use your own body weight. If you are not sure how to complete a work out correctly please look it up or email for any questions you might have.
(These workouts come from one of our favorite blogs www.infitinhealth.com she has great tips on fitness and nutrition)
Remember if you fail to plan, you are planning to fail.  So create a realistic plan and get to work! If you need help or would like a 1 on 1 consultation feel free to call either of our Dallas or Fort Worth location at 214-219-9727 we would love to help