INSIDE HOLLYWOOD'S BIGGEST INCH LOSS SECRETS
 It's time to take a note from Hollywood and follow in these A-listers footsteps by getting a body wrap. It's how they prepare for red carpets, bikini scenes and even their very own vacations.  So treat yourself to this Hollywood secret and look and feel your best this summer.
All of these celebrities are using the same products we offer right here in the DFW, from our Contour Body wrap to our W.I.W Infrared Treatment we have the service to help you channel your inner A-Lister.
Khloe and Kourtney Kardashian 
The Kardashian sisters have  recently visited a Spa in LA that offers an infrared treatment just like our very own W.I.W. Infrared.
Kris Jenner
Kris Jenner recently slims down by going to LA Slim Wrap. She lost 9 inches all over and loved owner, AfsiNaim, who made her feel so comfortable. ! "I LOVED my slim wrap….seriously…to die for. OMG LA Slim Wrap is AMAZING!"
 Kim Zolciak&Draya Michele
"I have been working hard to lose my baby weight and LA Slim Wrap helped give me that extra push to get back to my ideal body! I felt rejuvenated, had more energy and could see and feel the difference!  I lost inches and was able to get into my favorite jeans and they were even a little loose! I am a believer of LA Slim Wrap and plan to incorporate their wraps into my regular beauty routine."  – Kim Zolciak of The Real Housewives of Atlanta July, 2011 *results may vary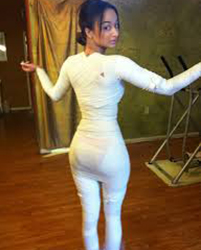 Ali Fedotowsky
"It feels very good, my arms just feel tighter I'm going to look great in my dress"
There's many more where these came from check out some more or our favorite celebrities Ellen DeGeneres, The Drs, Tyra Banks, The Rachel Ray Show and Hip Hollywood don't wait to become red carpet ready. Call our Dallas or Fort Worth location today to schedule your celebrity treatment.